Today's post is an update from 5 years ago! When writing about the charm of vintage tins, we believed our clients would love and appreciate their beauty as we did. Voila – many did and below you'll see photos of how sweet they look filled with flowers, cookies, or just by themselves!
So, here's our updated version from February, 2014 with a few new photos sprinkled in as well as SVT's new logo at the close!
---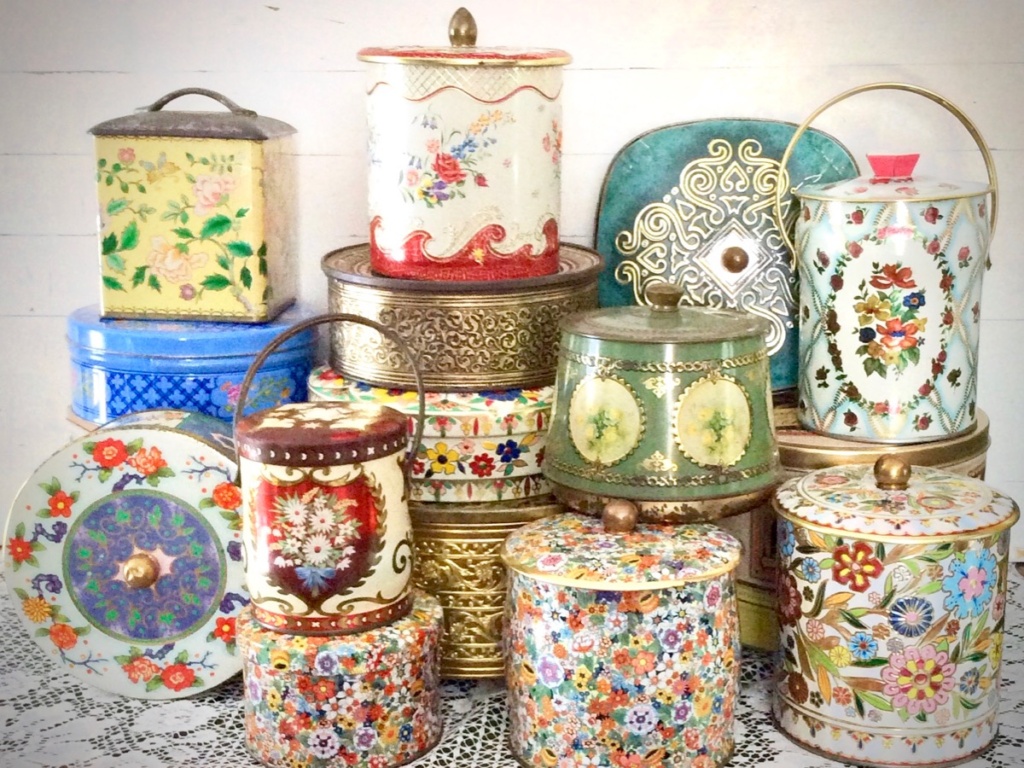 We have fallen in love with another vintage item – tea, candy and biscuit tins. Tins, as they are called because of the tin-covered steel sheets they are made from, vary in colors, patterns, shapes, lids and sizes. The ones we have collected for Southern Vintage Table are simply charming!
A flat tin is perfect as a stand for just about anything! With a set of bar glasses, a stack of plates, a vintage greeting card or a plate of cupcakes, these tins add color and history to the table. Of course, you also can put things inside, like your forks, spoons and knives or cookies!
The vibrant colors of these tins are amazing! Notice the different types of lids on this set of vintage tins.
This classic blue and white vintage tin is pretty both inside and out. When we picked this up from the thrift store shelf, an employee said to be sure to open it up. The inside of the lid is also decorated – a small built-in tray!
We discovered that many of these are probably from the 40s-50s and up to the 70s. Filled with candies, cookies and teas, they became popular items in gift shops and department stores. The majority of our collection has a "Made in England" mark but there are some from Holland, Germany, and America. A few have no mark at all. One thing is certain about these lovelies; they have decorative and even functional uses on the vintage table!
These lovely vintage tins once held delicious things for us to enjoy. Now, decades later, they continue to enchant us with their sweetness and charm. Add a little vintage delight with our vintage tins from Southern Vintage Table!
Here are a few resources about vintage tins.
What to Look for When Collecting Vintage Tins
Celebrated Biscuit Tins
Biscuit Tin – Wikipedia
---