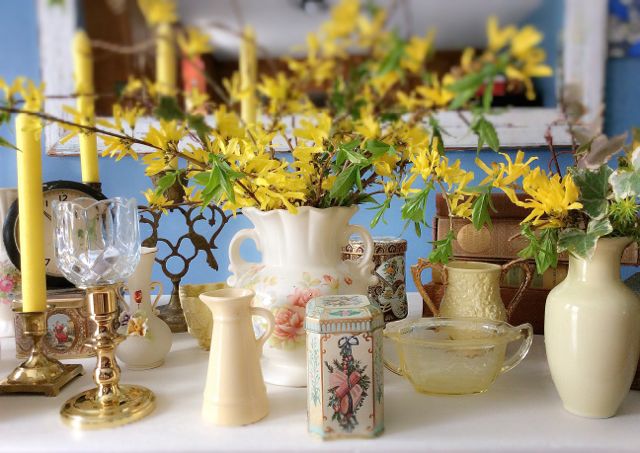 In last week's post we unveiled our new Vintage Centerpiece Packages!  I must admit, I am super excited about this concept because now our wonderful collection of vintage decor can more easily harmonize with each other in unique table vignettes. After refining the concept last week, I wanted to design another set and it didn't take me long to find my inspiration  –  my favorite signs of spring, forsythia and daffodils!
I love the color yellow – it's warm, bright, and evokes happiness. With this joyful color of spring in mind, I gathered our vintage items of yellow and gold, picked flowers, cut sprigs, and began creating. Let's test the steps from last week's post with our new spring-inspired vision:
Step 1:  Determine how many clusters you'll need for your vignette.
3-5 clusters on each table.
Step 2:  Decide on the number of different groups of vignettes.
8 tables with 3 different designs – Group A – 2 tables; Group B – 3 tables; Group C – 3 tables.
Step 3:  Create a formula for each vignette grouping.
Goal – Gold metals, two sets of flowers/greenery in each setting, candle lighting at each, ceramic vases, yellow candlesticks
Group A (5 items) – Metal – brass candelabra, clock, brass vase, small brass frame; Organic – two flower bouquets; Ceramic/Glass – medium ceramic vase
Group B (6 items) – Metal – 3 brass candle holders of different heights,  medium framed picture; Organic – flowers, sedum plant; Ceramic/glass – large porcelain vase, glass coaster with gold trim, sedum teacup planter
Group C (5 items) – Metal – brass candlestick holder, pillar candle holder (metal or ceramic); Organic – small flower bouquet, sedum plant, large/small twig ball; Ceramic/glass – ceramic vase, sedum ceramic creamer/pitcher planter
Here are three ideas for a bright, cheery look for a table featuring yellow!
Step 4 – List the items needed by their three groups.
Group A – 2 Tables – 2 Each
1 brass candelabra, 1 large procelain vase featuring yellow, 1 vintage clock, 1 brass vase, 1 small brass frame with yellow insert
Group B – 3 Tables – 3 Each
3 brass candle holders of different heights, 1 medium porcelain vase featuring yellow, 1 gold/yellow teacup with sedum, 1 glass coaster, 1 medium brass frame with yellow insert
Group C – 3 Tables – 3 Each
1 brass candle holder, 1 tall yellow or cream ceramic vase for small bouquet, 1 ceramic/metal gold pillar candle holder, 1 gold/yellow creamer/sugar dish/teacup with sedum, 1 large/1 small twig ball
Step 5 – Let Southern Vintage Table select, pack, and deliver your items!
We'd love to help you create your unique table centerpiece!  For yellow lovers, check out last year's post, Happy Yellow Vintage China,  And, for beautiful, locally grown NC flowers, check out the flower offerings at Fernrock Farm which provided the lovely daffodils in our arrangements. Thank you, Carrie and Bill!
This was way too much fun – look for another set of vignette inspirations coming soon!
  • — • — • — • — • — • — • — • — • — • — • — • — • — • — • — •