It was a radiant April day at the Cape Fear Botanical Gardens in Fayetteville. The lovely grounds were covered in colorful spring blooms, the sun was shining, a gentle breeze was blowing and two people were ready to share the rest of their lives together. What a joyful day for a wedding!
I first met Ashley via email last October when she told me she found Southern Vintage Table's website and wanted to know more about our vintage china.  We corresponded through the months about her wedding and shared different ideas about the table setting. I knew she and I were planning something very special.
During this time I had discovered the charm of vintage postcards from my friend, Priscilla.  We used them at her Christmas party and I fell in love with the look.  I found a way to make a stand from vintage forks and started a collection of vintage cards.  When I asked Ashley if she'd like to feature some on her table she was delighted because she also collected vintage postcards. It was a serendipitous moment!
With mixed and matched vintage patterns, we set the table with a dinner plate, salad plate, silverware, goblets and a trio of sweet vintage postcards.  Ashley's choice of flowers, wedding favors and linens completed a stunning table display for her guests.
The myriad of place settings featured soft hues of green, blue and pink.  Vintage goblets of green, blue, pink and clear accented the vintage china.  The vintage silver flatware also included different vintage patterns.  As I gazed at the beautiful, cheerful tables I envisioned the many dinner tables these pieces had once graced. I believe their individual history brings eloquence to such a joyful day.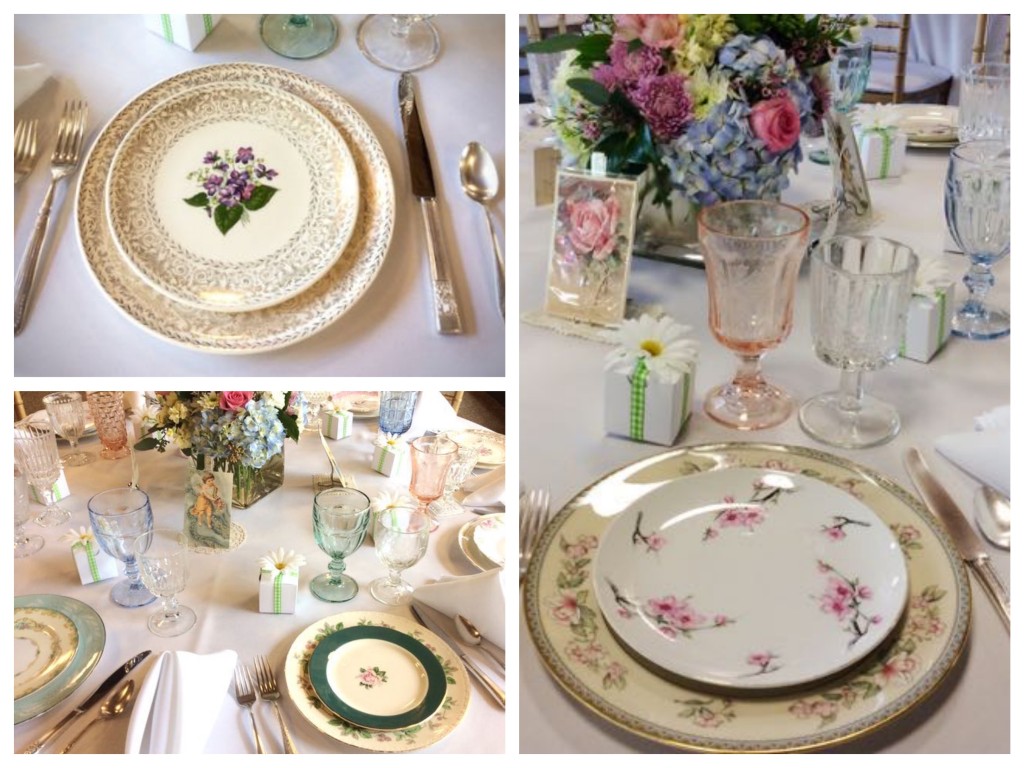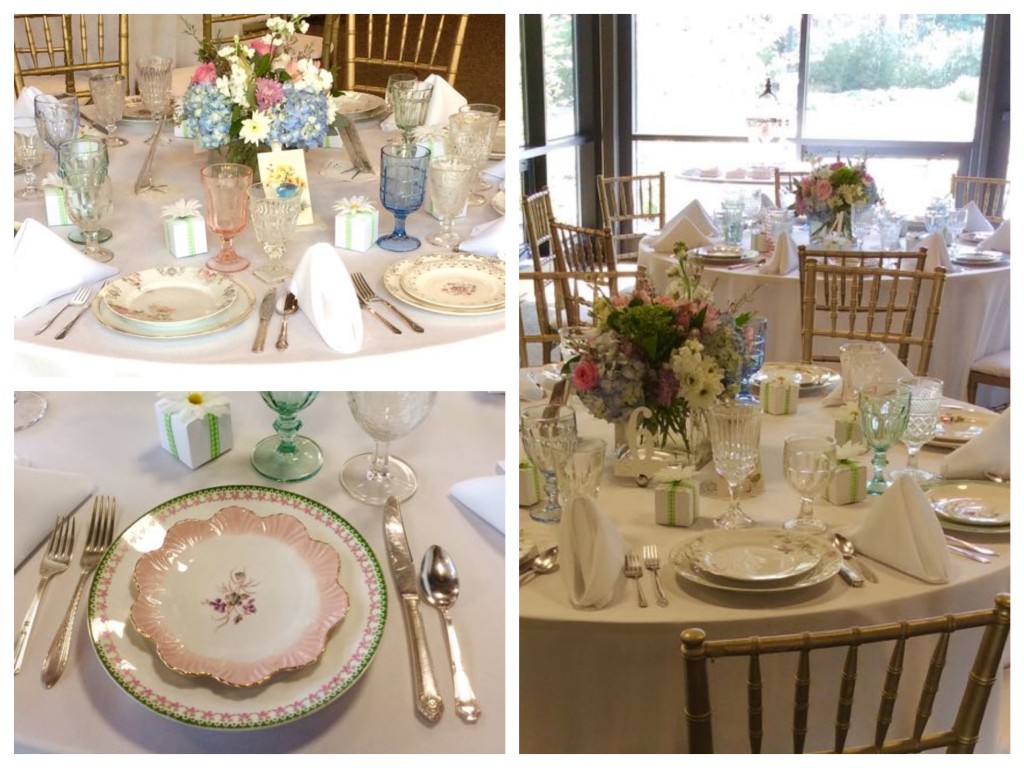 We also provided vintage dessert plates and forks to serve this gorgeous wedding cake. Love the flowers and the Precious Moments couple on top!
Thank you, Ashley and Jamie, for inviting Southern Vintage Table to be a part of your special day.  Wishing you two endless happiness and sweet love!
PS – Here are the vintage salad plates I mentioned in last week's blog – the pattern name is Cherry Blossoms by Diamond China.  This week I happened upon a dinner plate in this same pattern!
 PPS – Thanks, Alexandria, and happy birthday!
• — • — • — • — • — • — • — • — • — • — • — • — • — • — • — •