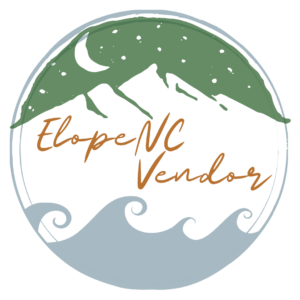 We are happy to share that we are a part of an incredible vendor team, ElopeNC, headed by Stephanie and Matt Milosh. This carefully curated group of professionals is ready to help couples create a intimate wedding day that is beautifully personal. (Don't you love the logo?)
Our ElopeNC team and all partner vendors believe:
in honesty, transparency and authenticity;
love is love, and all love stories deserve celebration;
the reason for your choices matters;
all living things should be treated with respect;
and marriage is life's greatest adventure.
"The mission of ElopeNC is to provide couples who are eloping in North Carolina with inspiration, resources, a vendor directory and package deals that take all the stress out of elopement planning and connect couples with incredible vendors."
Vendors on the team include practically every wedding professional niche – planners, officiants, photographers, videographers, venue owners, florists, musicians, food and bar services, and vintage rental services. This is truly a fantastic place to start when planning your one-of-a-kind intimate wedding celebration!
Interested couples and vendors alike can find all kinds of good stuff at ElopeNC . And, while you are there, you can check out Southern Vintage Table's listing!
---