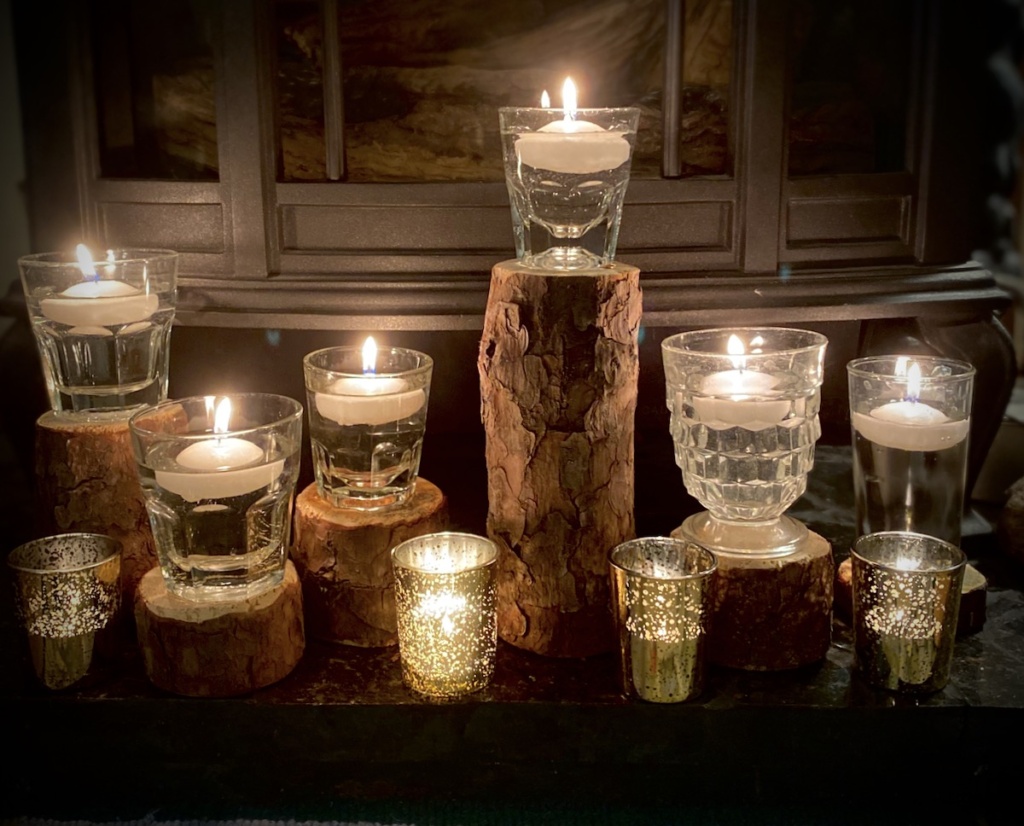 ---
"Her heart said, "It's time to create."
Her soul overheard and replied, "It's about time."
As I read this quote I had an epiphany – I have loved creating, decorating, transforming, and arranging all of my life and haven't given much thought as to why. Now, I understand.
My heart and soul need to create.
Our offerings of handcrafted items have brought us joy to create and now even more joy to share. They are all eco-friendly, natural, and repurposed – the hallmarks of a good steward of our planet. We hope you can imagine how they might be the perfect item for your next occasion!
---
Wood
Rounds – Pedestals – Boxes
Wood may be the most versatile natural element. The live-edged rounds, purchased from a local vendor, were first dried and sanded. We then decoupaged one side with vintage newsprint and slightly stained the other with coffee to provide two different looks. Two have been decoupaged with blue & white paper. With these, you can define a space, elevate decor pieces, or hold dishes such as desserts.
Currently we are cutting fallen branches to make pedestals for small items. As seen in the opening photograph, these can hold votives, small plants, or simply be an architectural addition in a grouping.
Our favorite creation are these wooden boxes fashioned from old ceiling fan blades. Two of the same size were matched up for the sides, and the ends and bottoms were cut from recycled wood. The pieces were sanded and nailed together. So far, they have been used to hold cupcakes on the dessert table, stacked as steps to display individual pastries, and filled with florals as a centerpiece. How do you see them used at your event?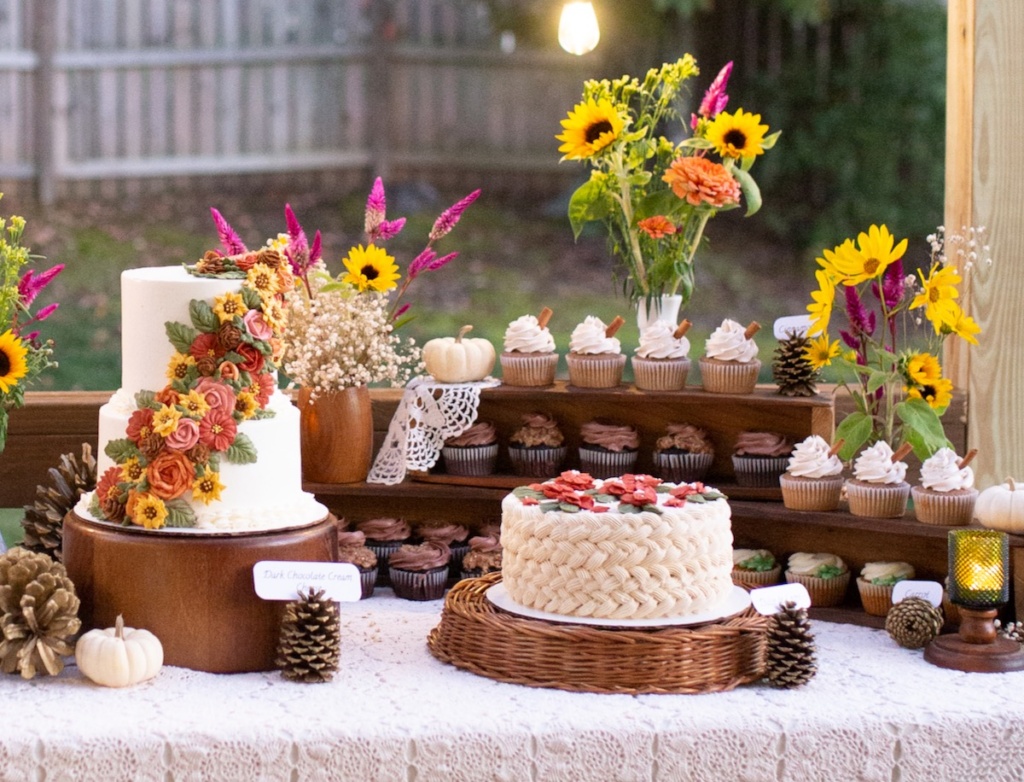 Macrame
Bottle Votives – Bottle Vases
Macrame was a big hit in the 1970s and now making a comeback with the boho style. These recycled bottles have been covered with a macrame wrap and look so hip! Some can be used as votives and others as vases.
Lace, Cloth, Macrame
Boho Backdrop Curtain
As our linen collection grew, several overlays were put to the side for reuse. We weren't quite certain what that might entail, but we knew they would be perfect for a project. Well, here's that project – a boho backdrop curtain. Along with cut strips of overlays, we added strips of vintage cloth, ribbon, lace, toile, and macrame rope. Crafted for a fall porch wedding, it is now hanging in our studio. Perhaps you can see this at your wedding or event?
Decoupage
Bottles – Vases – Rocks – Rounds
Decoupaging is an amazing craft because you can totally transform something ordinary into a work of art. Most of these have been covered with paper napkins, but we have used vintage book pages and crafting paper as well. These days our glass bottles and jars don't make it to the recycling bin – they are destined to become a decoupaged treasure!
Our handcrafted recycled and repurposed decor items are at our studio along with our vintage wares. These two blend together perfectly and belong in each other's worlds.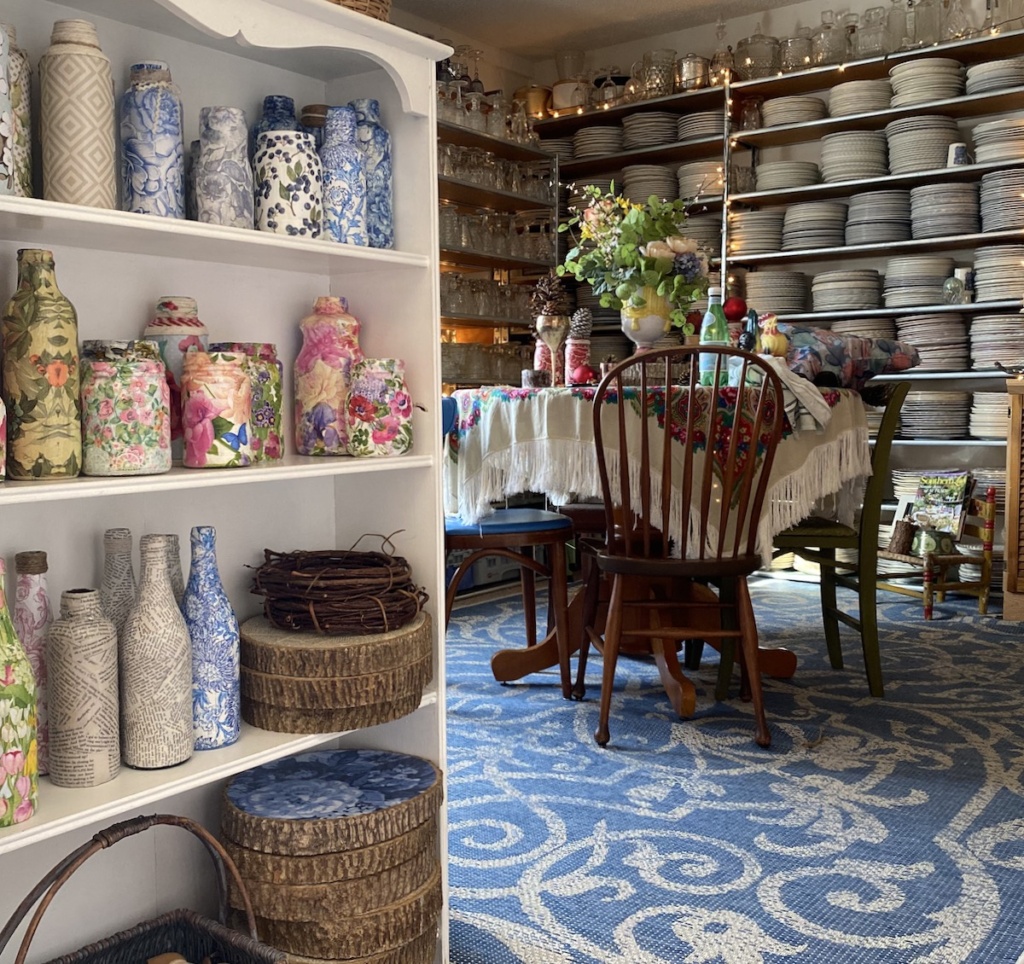 ---
"The desire to create is one of the deepest yearnings of the human soul " – Dieter F.Uchtdorf
---