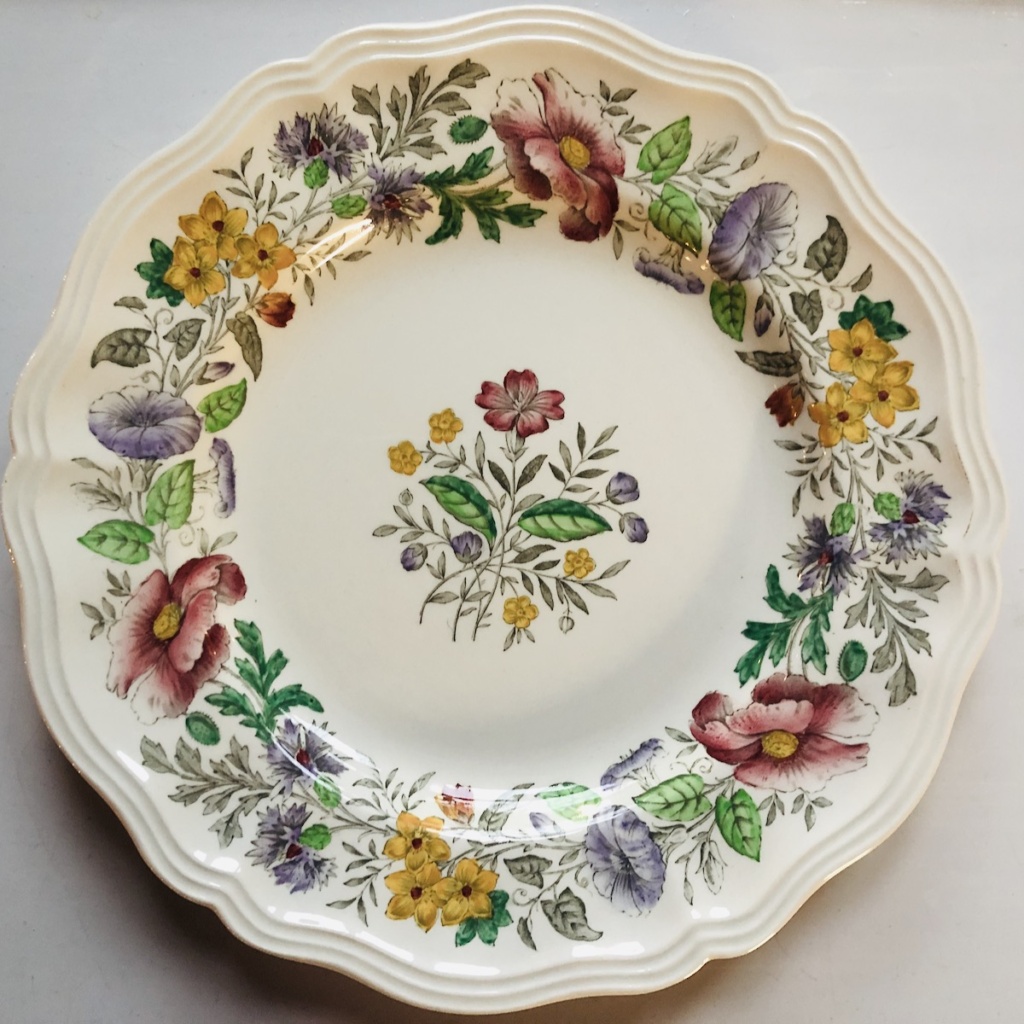 Florals on china are so lovely and vintage patterns seem even more beautiful. Today's blog features five bold floral vintage china patterns, four of which were made in England and one from the United States.
Let's begin with this beauty, Stratford by Royal Doulton. Produced for twenty years, from 1941-1962, this pattern features almost every color – yellow, pink, purple, green, and gray. We love the scalloped floral rim! Meredith and Jessie delighted their guests with them.
Next up is Staffordshire Bouquet by Johnson Brothers, also made in England. So many clients come to our studio and comment on how much they love this pattern. Featuring brown, red, yellow, green, and blue, this swirl-rimmed pattern was only made seven years, from 1973-1979.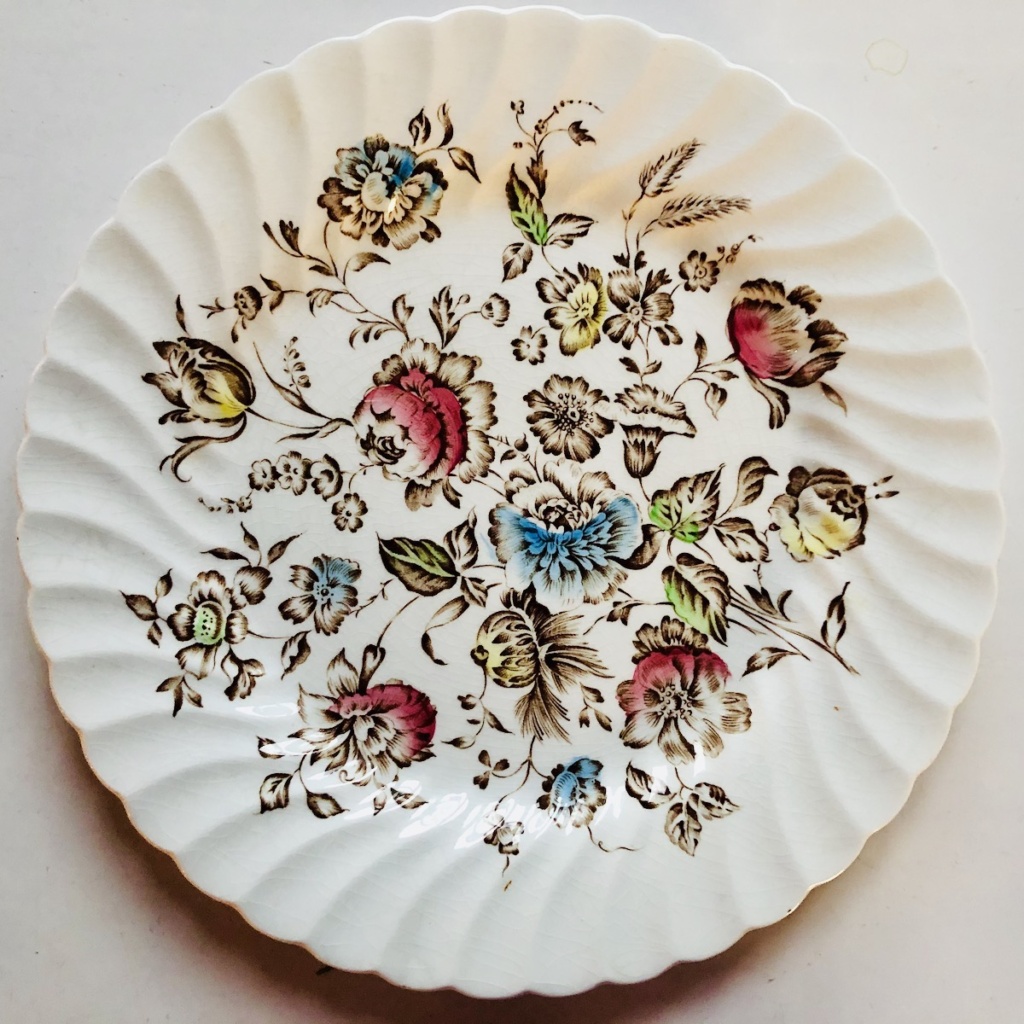 We'd like to introduce you to our third bold floral, English Bouquet by Johnson Brothers. As our most recent addition to our inventory, we immediately knew it was a Johnson Brothers design. It's brighter color palette includes pink, blue, yellow and green. One internet source says this pattern is from the 1920s!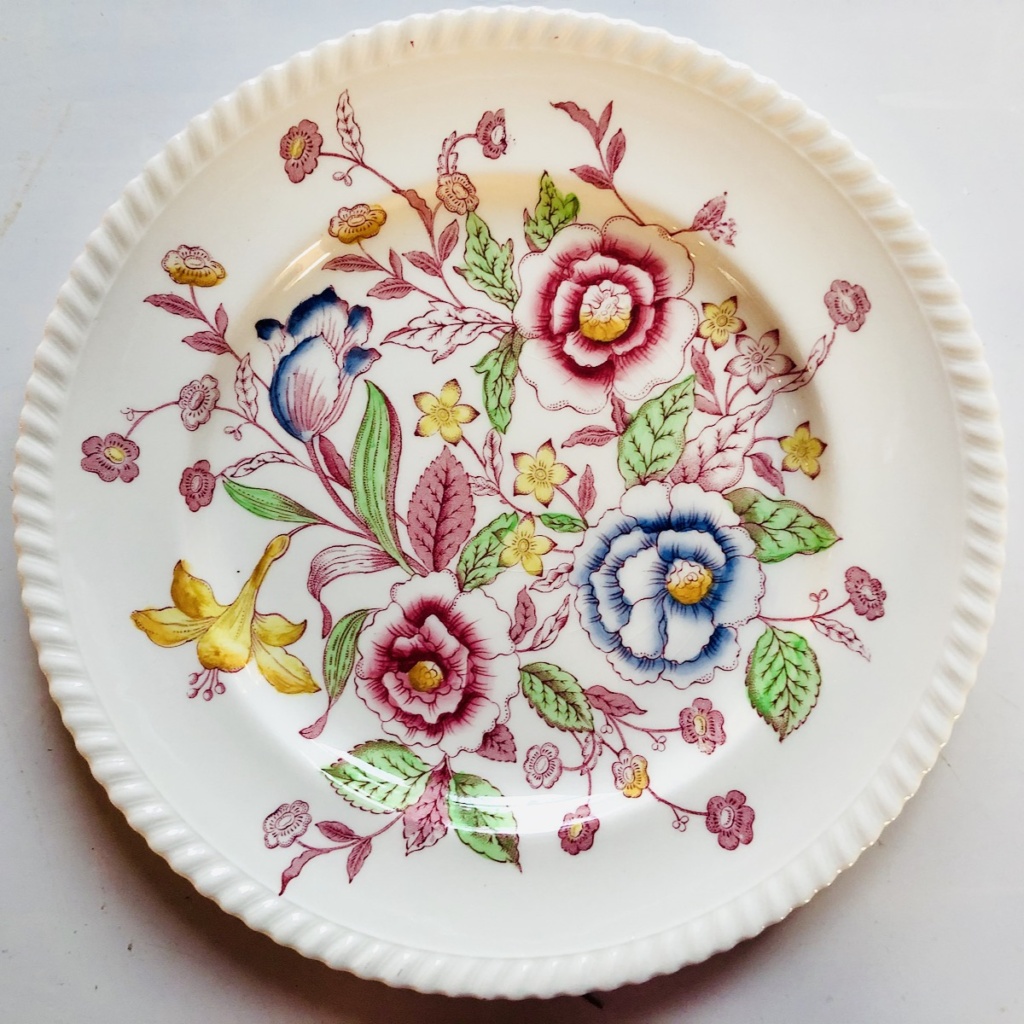 The fourth of our featured vintage patterns is Bouquet by Myotts Staffordshire, England. With its darker hues of brown, amber, green, and maroon as well as the swirled, scalloped edge, this pattern one of our favorites! The details are stunning! Although we couldn't find the production dates for this pattern, we know that since it's mark doesn't have the Myotts-Meakin stamp, it can't be after 1989 and we believe it's much older.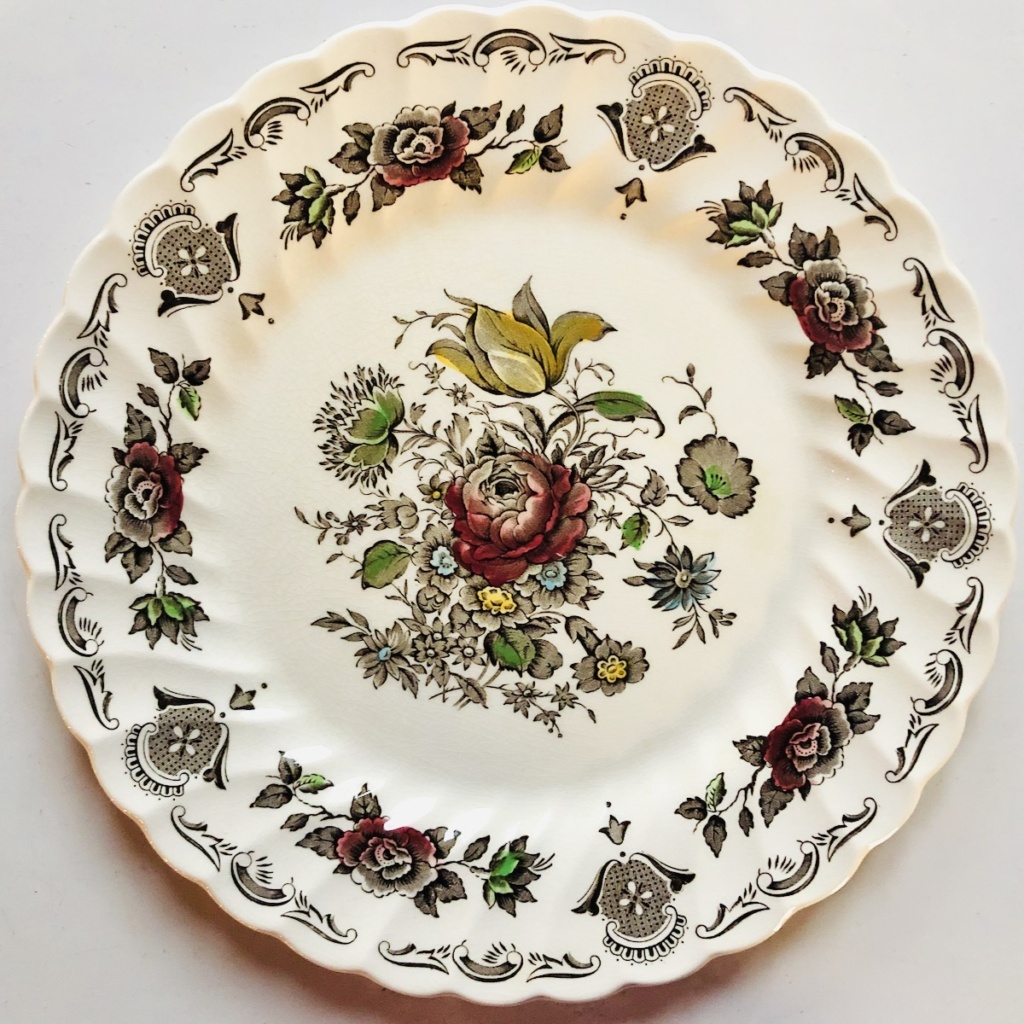 Lastly, here's our lone USA-made vintage bold floral design to feature. This one is called May Flower and it's made by the Californian company, Vernon Kilns. Featuring florals of yellow, blue, purple, and white along with the basketweave rim, this pattern is so darn pretty! Amazingly, May Flower was only made from 1942-1953 and they look gorgeous on Meredith and Jessie's reception tables.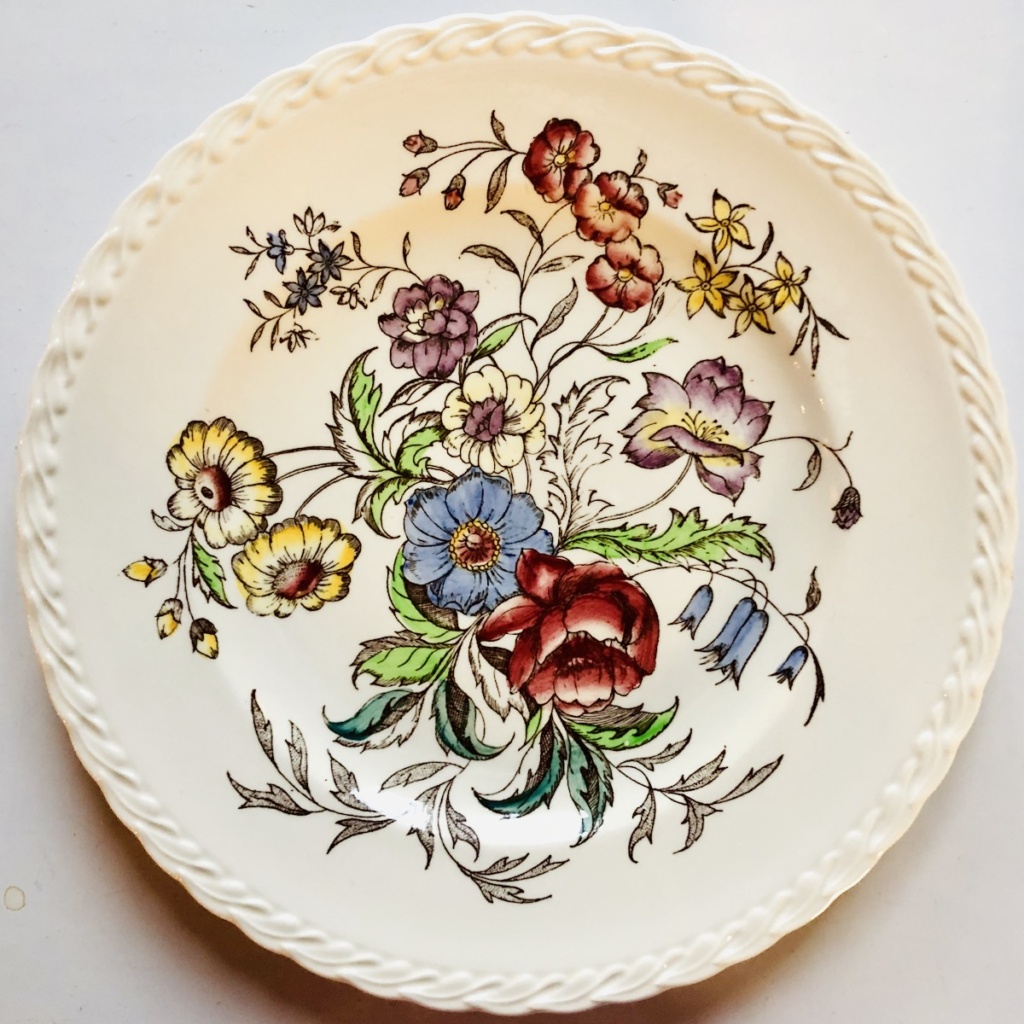 So there they are! Five gorgeous bold vintage floral patterns made by five different potteries in England and America. Can you name them now? Hint – most of them have "bouquet' in their name!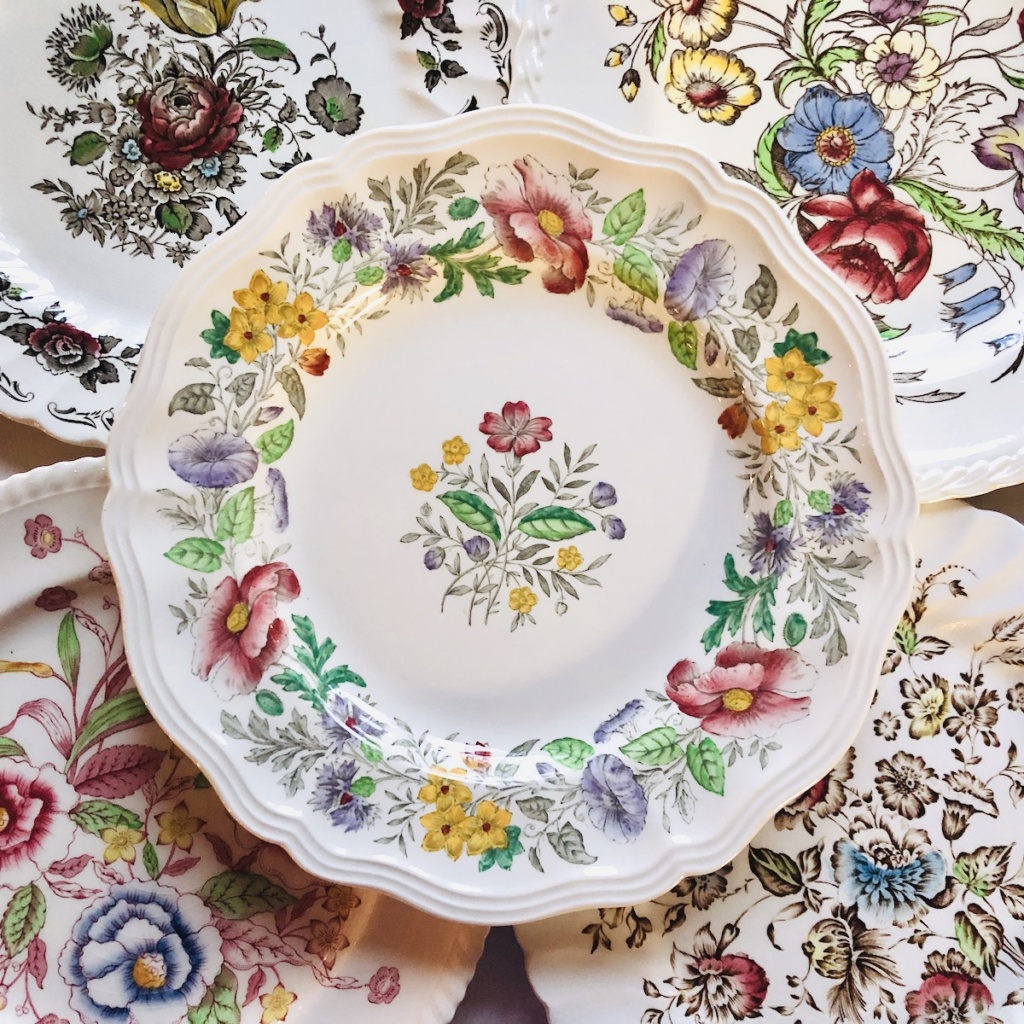 Source – Replacements, Ltd
---