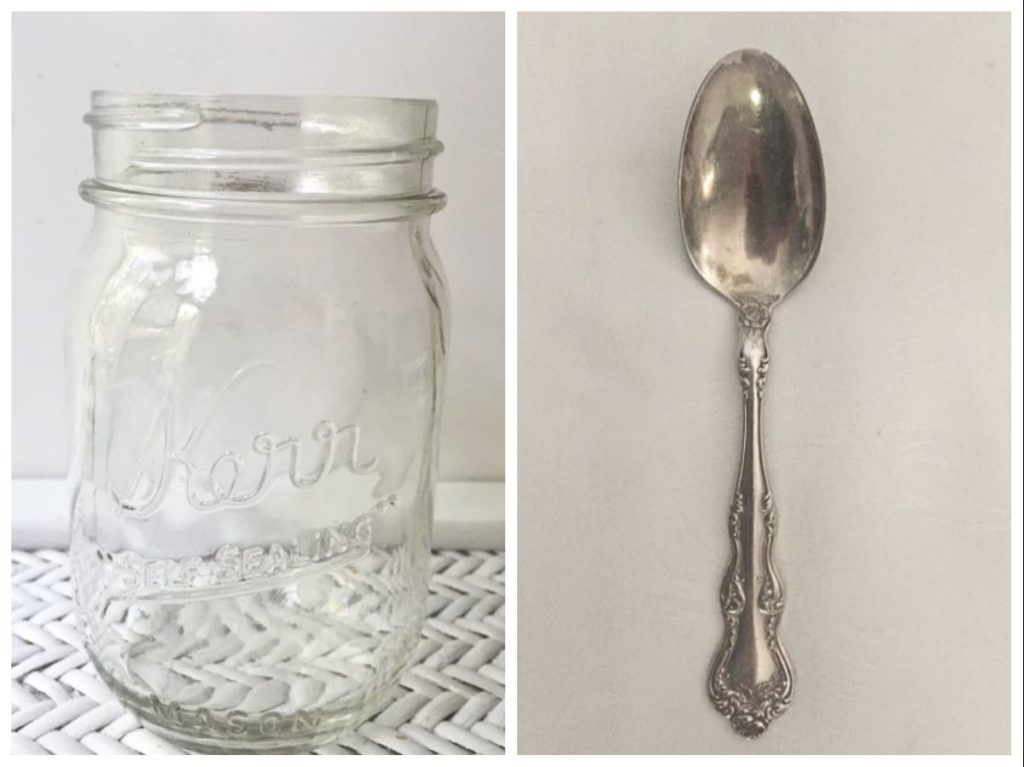 Part of my fascination about anything vintage is the history they embody – the companies that made them, the folks who bought them, the homes they were in, the time period they existed. Appreciating these objects as artifacts, I am thrilled when I uncover an interesting story connected to a new find. This happened last week when I found four teaspoons in the flatware bin at a local thrift store.
They stood out because of their silvery sheen and ornateness and, when I picked them up, they were nice and heavy. As usual, I didn't bring my glasses so I couldn't make out the maker, but the pattern was new to me. When I got to my car and found my glasses,  I read the mark – King's Hall Silver 1088 – and quickly searched the name on my phone. Ding ding!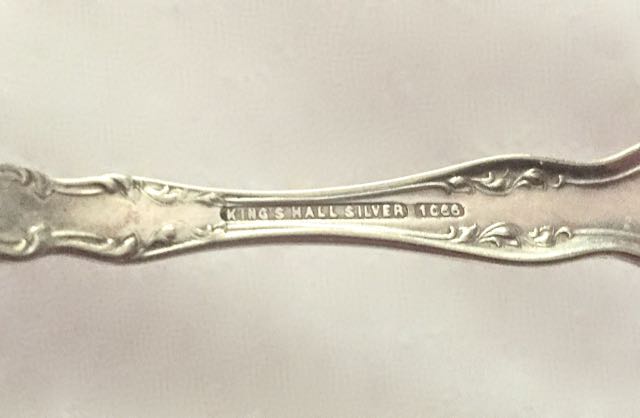 My research began with a community board on Ebay.  Someone posted a question about these teaspoons and here's Susan's response:
… all I could find on this spoon were pages and pages of Home & Garden, Country Life, Suburban Life, … 1911 magazine ads for Kerr Glass Mfg. Economy jars. Kerr was giving away 3 of these spoons with every case of jars and 1 with a dozen caps. No doubt the use of the number 1066 was to attract attention for it was in the year 1066 that William the Conqueror invaded England. His descendants resulted in the Plantagenet dynasty that ruled England for over 300 years.

With this response, I found several ads that ran during 1911.  Here are two from Country Life in America and Suburban Life.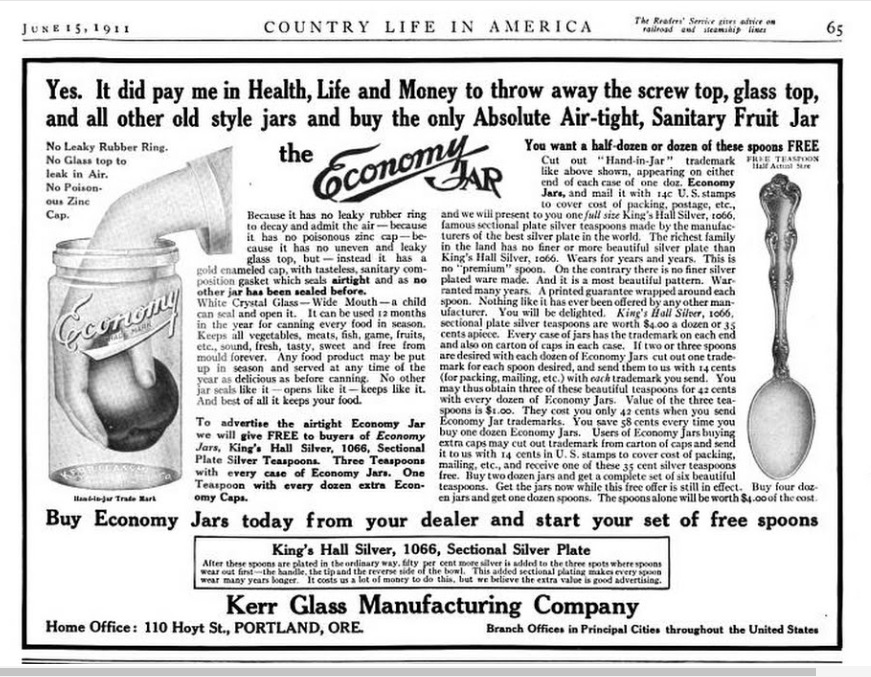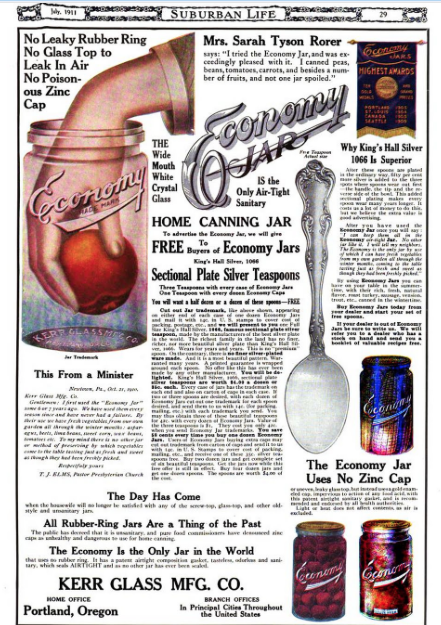 Mystery solved – these King's Hall Silver teaspoons were a free gift given out circa 1911 by Kerr Glass to drive sales of their canning jars, a kitchen staple well known to all of us. It may be difficult to read, so here's an excerpt from the ad.
Cut out "Hand in Jar" trademark, like above shown, appearing on either end of each case of one dozen Economy Jars and mail it with 14c. in U. S. stamps to cover cost of packing, postage, etc., and we will present to you one Full Size King's Hall Silver. 1086, famous sectional plate silver teaspoon, made by the manufacturers of the best silverplate in the world. The richest family in the land has no finer, richer, nor more beautiful silver plate than King's Hall Silver, 1066.
From here, I wanted to learn more about the Kerr Glass company. My research uncovered many more twists and turns – here's a quick synopsis of the highlights.
In 1903 Alexander Kerr started a fruit jar company in Portland, Oregon called the Hermetic Fruit Jar Company. The jars were made by the Illinois-Pacific Glass Company, located in San Francisco.
The Great Earthquake of 1906 struck San Francisco and 80% of city was destroyed. Miraculously, the Illinois-Pacific Glass manufacturing plant survived.
Kerr opened his first glass manufacturing plant in Kansas in 1909.
Kerr fell in love with a young stenographer in his office, Albertina Sechtem (who was 28 years younger), divorced his wife, and married her in 1910. The local headline read, "Rich merchant divorces wife."
During 1911 Kerr Glass Manufacturing ran ads for free teaspoons with purchase of jars and lids in numerous publications.
Albertina Kerr contracted typhoid and died months after giving birth to a son in October, 1911.  On her deathbed she asked Alexander to "look after motherless babies, too."
Kerr donated their home to the Pacific Coast Rescue Society to help orphans and single mothers. Over the next hundred years, this contribution proved to be a seed to provide support for young children, single mothers, and individuals with disabilities. Today the Albertina Kerr Center, located in Portland, Oregon, supports individuals with developmental and physical challenges.
In 1913, Kerr married his young secretary, Ruth Kalbus, and they had 6 children. Kerr died in 1925 from pneumonia contracted while collecting Community Chest Funds.
The eldest son from Kerr's first marriage ran the company until his death in 1930.  Alexander's third wife, Ruth, took over to become "the first woman executive in the glass-blowing industry — if not one of the first women executives in manufacturing — in the United States."  (Healthy Canning)  She ran the company until her death in 1965. Under her direction, many women were promoted into executive positions and her company would become one of the two largest canning businesses in the United States.
In 1937 Ruth Kerr established the Bible Missionary Institute that would eventually become Westmont College, ranked as the 90th "America's Best Colleges List 2013" in liberal arts colleges by US & News Report.
Two notable contributions to the canning industry by Alexander Kerr were the production of the first wide-mouth jar and the invention of the metal flat disk used to seal the jar.
From fruit jars, to the 1906 San Francisco earthquake, a scandalous divorce and marriage, free teaspoons, centers to help orphans and children with developmental needs, and one of the first women executives in manufacturing – whew! Now, this is a pretty good story, huh?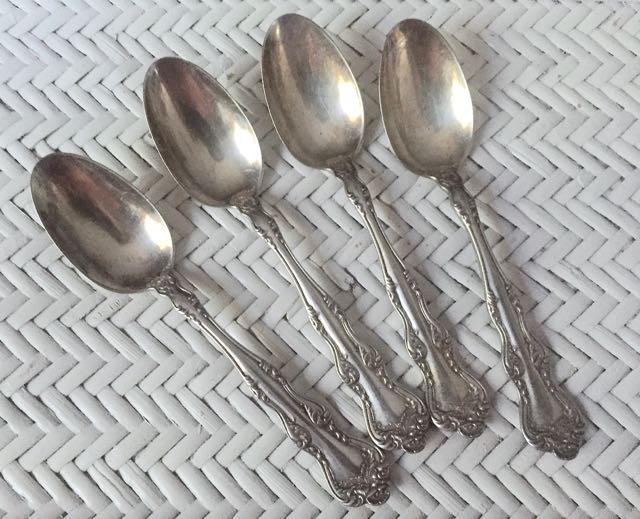 ---
Want to see more?  Check out these popular publications from 1911.
Suburban Life, July 1911
House & Garden, July 1911
Country Life in America, June 1911
The Garden Magazine, July 1911
---
Sources:
Ebay Community Board
Glass Bottle Marks
Alexander H. Kerr
1906 San Francisco Earthquake
Albertina Kerr
Healthy Canning
Polio Wars: Sister Kenny and the Golden Age of American Medicine
Find a Grave
Westmont College
---