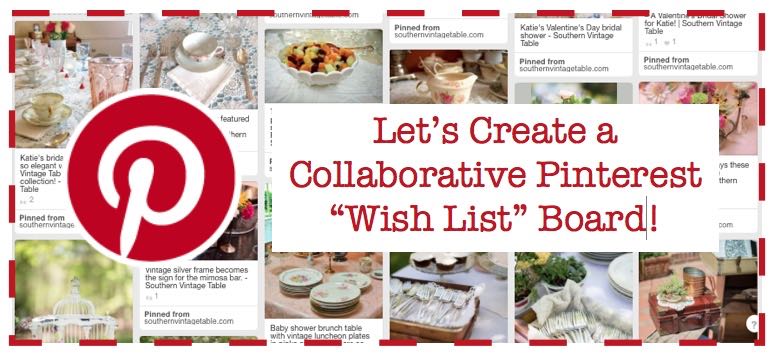 Pinterest is one of the very best social media tools out there – really. On a personal level, it's perfect for archiving ideas about any topic, hobby, or interest you might have whether it's recipes you want to try, movies you love, or DIY tips. For a business, it's a terrific way to reach potential clients by visually showcasing your inventory, work, and visions.
Now, there is another way Pinterest can help a business directly connect with their clients. We didn't think about it until we saw a blog post by Old South Vintage Rentals, and it's brilliant!  Consider using Pinterest to create a "wish list" with Southern Vintage Table.  Even if you don't already use Pinterest, it's very easy to set up. Our suggestion is to create a "secret" board, invite us to be a collaborator, and let us know how we can help you.
There are several places you can peruse and then pin our inventory. Look through our many Pinterest boards, our website, especially our inventory slide shows (which we still have more to add), and our Instagram posts. Once you have finished archiving items on our collaborative board, let us know, share details and numbers, and we can provide a quote.
Easy, peezy!  Looking forward to collaborating with you! 

---